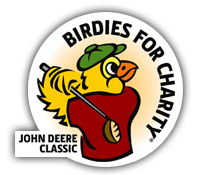 Birdies for Charity 2020-UPDATE
UPDATE: On Thursday May 28th it was announced that due to the continued COVID-19 restrictions the 2020 John Deere Classic has been cancelled. However, the Birdies for Charity will continue on as usual with a few minor modifications. All penny pledges will be converted to a flat $20 donation per penny pledged (for example .01/birdie = $20, .02/birdie=$40, etc) and the prize giveaways including the grand prize 2 year lease of a 2020 Lexus NX will be done by random drawing among all donors. As always, every cent donated will go to NF Midwest plus the traditional 5% guaranteed bonus from John Deere. The links below to donate are open!
We are so excited that Steve and Diane Reason reached out about including NF Midwest in this year's Birdies for Charity event again. Birdies for Charity will be July 6-12 as part of the John Deere Classic series. Last year, 13.82 million dollars was raised for 542 charities. According to the Birdies for Charities website, overall the John Deere Classic ranks among the top three in charitable giving on the PGA TOUR.
We are thrilled and thankful that NF Midwest will be a part of this event again! So, how does it work? You pledge an amount per birdie, so if you pledged a penny per birdie in 2019 you would have pledged $20.91 (as there were 2,091 birdies last year). So easy. But it gets even better…because John Deere covers all of the expenses 100% of the profits go to NF Midwest or the other participating charities and just when you thought that was it…John Deere also gives an additonal 5-10% on top of your pledge. Pretty awesome right?
There is one more fun part of this event, if you guess the correct amount of birdies shot you could win a 2 year lease on a Lexus! Here are the Birdie totals from past tournaments:  2091 (2019); 2355(2018); 1918(2017); 1982(2016); 1990 (2015); 2040 (2014); 2142 (2013); 2113 (2012); 2160 (2011).
This is an easy and exciting way to give to NF Midwest while having a little fun too! You can reach out to us at or use the pledge form here. You can also visit the Birdies for Charity site.
Please follow and like us: