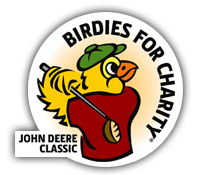 Win A Lease on a 2019 Lexus and Help Neurofibromatosis!
Here's an event you can participate in from your couch and possibly win a two year lease on a 2019 Lexus NX! For John Deere's Birdies for Charity,  all you need to do is make a pledge and guess at the number of birdies that will be made during the John Deere Classic which is going to be held July 8-14.
A two-year lease on a 2019 Lexus NX will be awarded to one person who guesses the right amount. For instance, in 2018 the golfers shot a total of 2355 birdies, 2017 the golfers shot a total of 1918 birdies; in 2016 it was 1982; and in 2015 it was 1990.
The pledge can be a fixed amount like $40.00 or per birdie – such as .01 per birdie (which in 2018 would have been $23.55).
John Deere underwrites the entire expense so 100% of your donation goes to the cause, PLUS a bonus of 5% to 10%.
It's super easy! Pledge online now and be invoiced later. Be sure to spread the word.
Pledges must be made by July 5th!
We'd like to see an NF Midwest supporter win!
VIEW BROCHURE FOR MORE INFO FILL OUT A  PLEDGE FORM