Thank You Walk4NF Naperville 2023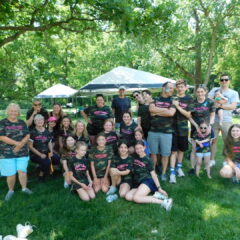 The Naperville 2023 Walk4NF is in the books! We are overwhelmed with gratitude as we reflect on the incredible success of the NF Midwest Walk4NF event held on June 3, 2023. The outpouring of support and the enthusiastic participation from each and every one of you made the event truly remarkable. On behalf of the entire NF Midwest team and the NF community, we extend our warmest thanks and deepest appreciation for joining us in our mission to bring awareness to neurofibromatosis (NF).
Thank you to the participants who attended the event. We appreciate you taking the time to join us and make a meaningful impact. Your presence created an atmosphere of unity, compassion, and hope. Whether you a person with NF, a family member, a friend, or a supporter, your commitment to raising awareness and funds for NF research is invaluable.
A special acknowledgment goes out to our volunteers who dedicated their time, energy, and expertise to ensure the success of the event. From setup, passing out treats on the walk path, taking photos and everything in between, your hard work and commitment were the driving force behind the Walk4NF event. Your support and willingness to go above and beyond are deeply appreciated.
We would also like to extend our sincere gratitude to the individuals and organizations who generously supported the Walk4NF event. Your contributions, both big and small, have made a significant difference. Whether you made a donation, sponsored a participant, or volunteered your time, your support has a tremendous impact.
We would also like to highlight Team Jay-Walkers for the most donations coming in at $7008 and Team Audrey's Army for winning the best team spirt! We had so many great amazing teams and individuals who contributed this year and we thank you
all!
As we wrap up this year's Walk4NF Naperville event, we encourage you to stay engaged with NF Midwest and continue supporting our cause. Together, we can continue to raise awareness, fund vital research, and provide support to individuals and families affected by NF. Your ongoing support plays a vital role in transforming lives and moving closer to our ultimate goal of conquering NF.
Thank You to Sponsors and In-Kind Donors!
It's not too late to sign up for the Columbia Walk! Click below for more information.