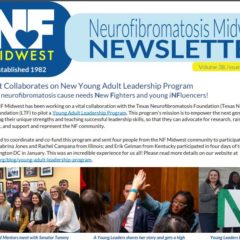 Spring 2019 Neurofibromatosis Midwest Newsletter
Check out our Spring 2019 NF Midwest Newsletter!
The highlights of this issue include…
Page 1
Information on the new Young Adult Leadership program
We  have a new  Care Impact Grant that clinics can apply for to improve care
A research grant was given the University of Chicago for neurofibromatosis clinical trials
Page 2
Announcement of our 2018 scholarship recipients
Two neurologists are now seeing NF patients at the University of Illinois – one for children, one for adults
SamJam4NF 2019 is September 21- free tickets to people with NF
We've received a generous grant from Discount Tire's Driven to Care Program again this year!
Page 3
Dates and info for our 2019 Great Steps Walks 4NF
Recognition gifts
Page 4
Meet our new Board Chair, Denise Dulceak
Meet our new Outreach and Care Coordinator, Andrea Miller
Information on Camp New Friends which is running Aug 3rd through Aug 9th
Information on the new Breakthrough Therapy Designation (BTD) of Selumetinib for plexiform tumors
We have special new pens available to monthly donors
Leave a legacy to NF Midwest or transfer stocks/IRAs/401Cs
Remembering those who have passed and the memorials we've received
Page 5
NF Midwest's annual symposium and iNFo Fair is set for November 9th
Learn a little about the formation of our NF Midwest Dream Team
NF Midwest and the Midwest community help secure another $15 million in federal funding
Different ways to stay iNFormed
Page 6
Do It Yourself (DIY) Fundraising 4NF – Raise funds your way!
Our NF2 Action Committee is looking for members
You could win a 2-year lease on a Lexus by pledging to Birdies for Charity
Various event announcements including support group meetings; Fort Wayne TinCaps Family Night; Kentucky Support Group; Central Missouri meetings
Page 7
Check out our mini yearly review in an infographic
Back Page
Be sure to check out our wall of thanks! We're sure we missed people, but please know that we appreciate you all!
Please follow and like us: