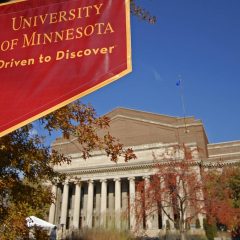 NF Midwest Collaborates to Fund University of Minnesota Research
NF Midwest and NF Upper Midwest are excited to announce their collaboration in awarding funds to the Minnesota Investigators in Neurodevelopmental Disabilities (MIND) Group at the University of Minnesota led by Dr. Rene Pierpont and her interdisciplinary team, including Dr. Becky Hudock and Dr. Chris Moertel.
This research team is developing intervention and parent coaching programs to enhance the development and mental health of children with NF1. The team will use the funding to support the presentation and publication of findings from their recently completed research study examining social and emotional challenges in the NF community. The gift will also enable the researchers to collect new survey information from parents about their interest in participating in intervention programs and to learn about how to make therapeutic programs most accessible to families. The researchers aim to use this information to launch therapeutic programs designed specifically to meet the needs of families affected by NF1.
NF Midwest and NF Upper Midwest are regional NF organizations that are dedicated to improving the lives of children and adults with neurofibromatosis and schwannomatosis and to ensuring that no one with NF fights alone. It's hoped that the research at the University of Minnesota will soon provide practical benefits to children with NF and relief to parents.
NF Midwest's portion of this funding was made possible by the support of NF Midwest Wisconsin families, many of whom are patients at the University of Minnesota. Special thanks goes to the teams and coordinators of Great Steps 4NF in Chippewa Falls and Madison and to the Bjork family.
NF Midwest is very excited to enter in to this great collaboration with NF Upper Midwest. This project goes well with cognitive studies by Dr. Bonnie Klein Tasman of the University of Wisconsin that NF Midwest has also funded.