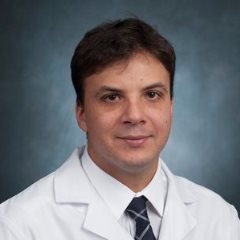 New Neurofibromatosis Clinic at Loyola in Chicago
NF Midwest is excited to announce that we have a new clinic for neurofibromatosis now open in the Loyola University Health System with locations for appointments in Burr Ridge and Maywood. Dr. Nikolas Mata-Machado has a deep interest in patients with neurofibromatosis and served a neurological fellowship under Dr. James Tonsgard at the University of Chicago where he learned a great deal about NF and NF patients in Dr. Tonsgard's large NF clinic. In fact, Dr. Mata-Machado is on the cover of our third edition of Understanding Neurofibromatosis.
Dr. Mata-Machado will be seeing adults and children with neurofibromatosis and speaks fluent Portuguese and Spanish (as well as English…obviously).
Find out more about finding an NF doctor here.
Note: As of June 2016 Dr. Mata-Machado has moved to St. Alexis in Hoffman Estates. Appoinments may be made by calling 847-490-4222.