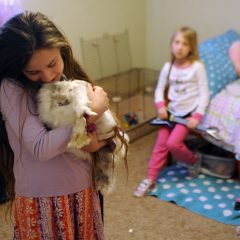 Great News Article on Neurofibromatosis
Members of NF Midwest's Central Missouri Group succeeded in getting fantastic article written about neurofibromatosis in the Columbia Daily Tribune. The author, Jodie Jackson, Jr., was approached by the Chapter many months ago about writing it and it ended up being perfectly timed and tied to the Pope's embrace of a man with neurofibromatosis.
This article not only explained neurofibromatosis and specifically it's affect on two area families, it also nicely highlighted the need for local care and support – a mission of NF Midwest and it's chapters.
We applaud this wonderful effort by Central Missouri and appreciate the Thomas and Ridgel families sharing their stories and putting a face to NF. Thank you also to Jodie Jackson, Jr. and the Columbia Daily Tribune.
The Central Missouri Chapter holds regular meetings. For more information check out their page here or email .
Be sure to visit our homepage for past posts and/or explore our website.
Please follow and like us: