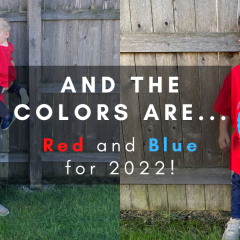 2022 Walk4NF Shirt Colors
Big news!
Jay has chosen a shirt color of red with blue ink for NF Midwest's 2022 Walk4NF season. These are his favorite colors! He was earned the honor of choosing the colors after his team, The Jay-Walkers, raised more funds for the 2021 walk fundraising season than anyone else with a total of $13,105.
For the last three years, NF Midwest has been allowing the top fundraiser of all our walks to choose the colors. It's been a lot of fun and we'll be doing it again. Funds can be raised in many ways. They can include direct donations, event income, Facebook fundraising pages, Giving Tuesday or end-of-year donations, etc. In fact, The Jay-Walkers took part in our recent Community Celebrathon drawing and got a head start for 2022 by raising $1,508.
To participate you need to register for a walk so that we can record your fundraising efforts. If you cannot attend a walk, let us know and we'll help you set up your own personal "DIY walk".
Registration is now open at www.nfmidwest.org/walk4nf.