2022 Scholarship Recipients
NF Midwest has awarded the 2022 scholarship recipients! Find out who's been granted a scholarship plus the changes we've made to this wonderful award.
NF Midwest has a program that awards scholarships to students from our service area diagnosed with NF1, NF2-SWN, or schwannomatosis and pursuing college degrees or certificates. We've recently awarded four $1,000 post-secondary academic scholarships to our 2022 scholarship recipients. These are all adults affected by neurofibromatosis (NF) or a schwannomatosis-related disorder (SWN).
Last year the NF Midwest Board established a special Distinguished Service Scholarship Award, which provides extra funds to applicants who have demonstrated an outstanding contribution to the NF cause and the mission of NF Midwest. Going forward, this special scholarship will not be awarded annually but by merit. The NF Midwest Board will evaluate applicants for length or impact of volunteer work, fundraising efforts, and event participation for NF Midwest.
If you'd like to apply for a 2023-2024 scholarship, look for the application process to be opened in January 2023.
Our 2022 scholarship recipients were: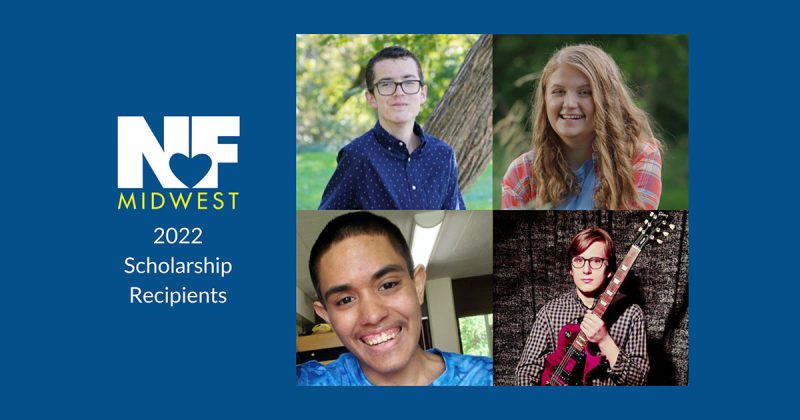 Christopher H. (Naperville, IL) will be a Freshman at the University of Dayton. He is pursuing a degree in Supply Chain Management.
Meghan S. (Waunakee, WI) will be a Freshman at St. Norbert College. She is pursuing a degree in Elementary Education.
Luke M. (Wauwatosa, WI) will be a Freshman at Milwaukee Area Technical College. He is pursuing a degree in Music Occupations.
Edgar A. (Aurora, IL) will be a Freshman at Southern Illinois University. He is pursing a degree in Zoology.