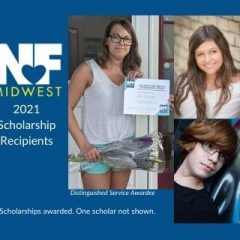 2021 Scholarship Recipients and Distinguished Service Award
NF Midwest has awarded three $1,000 post-secondary academic scholarships and one new Distinguished Service Scholarship to four adults affected by neurofibromatosis or schwannomatosis. The program awards scholarships to students from our service area who are diagnosed with NF1, NF2, or schwannomatosis and are pursuing college degrees or certificates.
This year the NF Midwest Board established a special Distinguished Service Scholarship Award which provides extra funds to applicants who have demonstrated an outstanding contribution to the NF cause and to the mission of NF Midwest. Going forward this special scholarship will not be awarded annually but by merit. Applicants will be evaluated by the NF Midwest Board for length or impact of volunteer work, fundraising efforts, and event participation for NF Midwest.
The very first award of this kind has been given to Ali Didier. The NF Midwest Board found her past volunteer work, her dedication, and her spirit in the face of challenges and adversaries to be such an inspiration that this award was created for her and all the others like her in the future. Ali has been actively volunteering for NF Midwest since she was ten. As her mother spearheaded a walk-in Effingham for ten years, Ali worked passionately along with her. In the past fourteen years, she has consistently raised funds and continues to do so. She's also participated in many symposiums/iNFo Fairs and has been responsive and supportive whenever NF Midwest has reached out for assistance.
In addition, to Ali, three other very worthy applicants have been awarded regular scholarships. If you'd like to apply for a 2021-2022 scholarship, look for the application process to be opened in January 2021.
Our 2021 scholarship recipients were:
Ali D. (Bolingbrook, IL) will be a Sophomore at Rochester Institute of Technology. She is pursuing a degree in accounting.
Braxton S. (North Manchester, IN) will be a Sophomore at Manchester University. He is pursuing a degree in English.
Madelyn M. (Verona, WI) will be a Freshman at the University of Wisconsin – Whitewater. She has not yet decided on a major.
Phillip E. (Kirkwood, MO) will be a Freshman at Augustana University in Sioux Falls, SD. He is majoring in Science, Technology, Engineering, and Math (STEM).