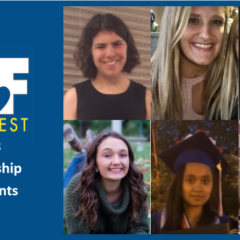 2018 Scholarship Recipients
Neurofibromatosis Midwest is excited to award $1,000 academic scholarships to six adults affected by neurofibromatosis or schwannomatosis. This is the fourth year for NF Midwest's scholarship program which was piloted with funds from a charitable trust left to NF Midwest by Frances and Irma Napolilli. The program awards scholarships to students from our service area who are diagnosed with NF and are pursuing a post-high school education. This includes undergraduate, graduate, and any trade schools. Applications are scored based on a demonstrated drive to succeed despite the challenges associated with living with NF, and aspects such as academic record, community service,  participation in NF Midwest, and teacher recommendations are also considered.
Our 2018 recipients are affected by NF in many different ways and several them have had to overcome obstacles that would have stopped many. We wish them the best of luck. If you'd like to apply for a 2019-2020 scholarship, look for applications to be open by the end of January 2019.
Our 2018 scholarship recipients were:
Eric Filipiak (Glenview, IL) is pursuing a degree in  Secondary Education in Mathematics and Physics at Xavier University in Cincinnati.
Natalie Hazbun (West Lafayette, IN) is pursuing a degree in Elementary Education at Goshen College in Goshen, Indiana.
Delaney Kissel (Millington, IL) is pursuing a degree in Psychology and Counseling at the University of Wisconsin in Oshkosh.
Karli Olszowka (Lockport, IL) is pursuing a degree in Early Childhood Education at Governors State University in University Park, IL.
Alicia Tovar (Chicago, IL) is pursuing a degree in Engineering at the Illinois Institute of Technology in Chicago.
Lindsey Wegner (Batavia, IL) is pursuing a degree in Nursing at West Virginia University in Morgantown, WV.