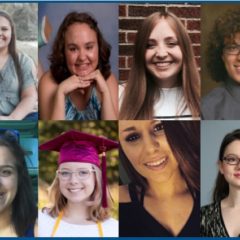 2017 Scholarship Recipients
Neurofibromatosis Midwest is proud to announce our eleven scholarship recipients for the 2017-2018 academic year. Now in it's third year, our scholarship program was launched with funds from a charitable trust left to NF Midwest by Frances and Irma Napolilli. The program awards $1,000 scholarships to students from our service area who are diagnosed with NF and are pursuing a post high school education. This includes undergraduate, graduate, and any trade schools. Applications are scored based on demonstrated drive to succeed despite the challenges associated with living with NF, and aspects such as academic record, community service,  participation in NF Midwest, and teacher recommendations are also considered.
We were able to award many scholarships this year but our ability to do so in the future is limited by the support of our wonderful donors. We need YOUR donations! Your donations to NF Midwest can always be directed to be used for the Scholarship Program – will you make one today?
Our 2017 scholarship recipients were:
Melissa Farr, Indianapolis, IN. She will be studying Elementary Education at Indiana University-Purdue University Indianapolis.
Victoria Doubek, Naperville, IL. She will be studying Special Education at Illinois State University.
Adelaide Ralston, Geneva, IL. She will be studying English at Alverno College.
Emily Newell, Williams Bay, WI. She will be studying Biology and Psychology at UW Eau Claire.
Zachary Scheffer, Plainfield, IL. He will be studying Film at Columbia College Chicago.
Jesse Tofte, Big Bend, WI. She will be studying Human Services/Social Work at Ottawa University.
Megan Wrobleski, Foster, KY. She will be studying Business Management at Maysville Community and Technical College.
Rachel Campana, Crystal Lake, IL. She will be studying to get her Masters of Social Work at the University of Pittsburgh.
Sarah Panozzo, Tinley Park, IL. She will be studying Elementary Education at Saint Xavier University.
Madeline Brazas, Middleton, WI. She will be studying Anthropology and Pre-Medical School at University of Wisconsin-Madison.
Allison Kukman, Morris, IL. She will be attending Joliet Junior College.