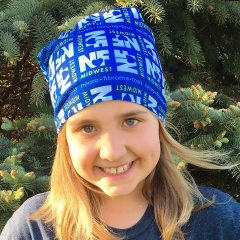 Wear the Word!
Join Rory in raising awareness and help the world recognize the neurofibromatosis cause by WEARING THE WORD! She's the one sporting the NF Midwest's communities new bandana.
NF Midwest C.A.R.E.S. to improve the lives of people with neurofibromatosis through Clinics, Awareness, Research, Education and Support. One of the ways we work on the "A", or awareness, with our community is through material and wearable merchandise. If you'd like to help spread the word by wearing it, check out the new items in our NF "a-wear-ness" store.
We now have seamless bandanas or Hoo-Rags (it may remind some  the show Survivor) with NF and neurofibromatosis all over it. There are many ways to wear it and it's sure to draw attention. We also now have No One Fights Alone shirts for adults and children with the emphasis on the NF in several places.  Also, we have a new color in our FN NF shirts and new wristbands that say "I Care About Neurofibromatosis". Please, check it out.
If you'd like to raise even more awareness and funds for C.A.R.E.S.  check out our Do It Yourself page or give us shout out at 630.945.3562 or by emailing .