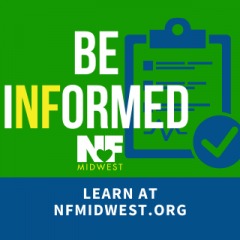 Recording – Neuropsychological Functioning in Neurofibromatosis
Recorded in December of 2012 by NF Mid-Atlantic, this webinar focuses on the different areas of cognitive functioning, and how they are affected in patients with neurofibromatosis.
The speaker, Dr. Barbara Couvadelli, MD, PhD is a pediatric and adult clinical Neuropsychologist. She focuses on the assessment and treatment planning of a wide spectrum of neurological and neurodevelopmental conditions that can negatively impact an individual's life at different developmental stages. Dr. Couvadelli's unique background in both medicine and psychology enables her to better understand an individual's current level of cognitive, psychological and adaptive functioning.
Please follow and like us: