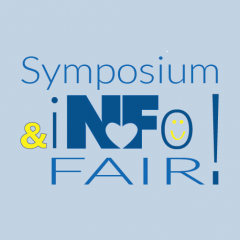 Oct. 25 Symposium Subject – Patient Reported Outcomes (PROs)
At our 24th annual NF Symposium coming up on Saturday, October 25th one of the subjects being presented will be about Patient Reported Outcomes (PRO) and the importance of this in NF research and treatment. Our presenters are Staci Martin, a psychologist with the National Institutes of Health National Cancer Institute (NIH/NCI) and James Tonsgard, Director of the University of Chicago NF clinic.
Drs. Martin and Tonsgard are members of the PRO Working Group of the Response Evaluation in Neurofibromatosis and Schwannomatosis (REiNS) Collaboration. The REiNS Collaboration is an international effort to develop a standardized way of determining how patients with NF1, NF2 and schwannomatois respond to treatment. The hope is that these standardized criteria will be used in future clinical trials and will improve the ability of researchers to determine how well new treatments work.
The main goal of the PRO group within the REiNS Collaboration is to determine the best ways to measure Patient Reported Outcomes for NF clinical trials and to accurately assess pain intensity, daily functioning and quality of life from a patient's perspective.
This may sound boring to some of us and we may be thinking that as a parent of a child with NF or as an NF adult that this isn't something that we need to understand, but this is an extremely important subject that is key to future NF research and care.
NF1, NF2 and Schwannomatosis are all complex disorders that affect people in many different ways. One of the difficulties in these disorders is understanding how people are affected in their everyday lives by pain; how they are limited in ability; how they are affected mentally…the list can go on and on. As treatments are tested and developed, the very complexities of these disorders make it difficult for researchers and clinicians to determine whether they are working.
The REiNS Collaboration is developing different ways to measure the effectiveness of treatments. One, for instance, is volumetric measurement, which will also be discussed at our upcoming symposium. Volumetric measurement is a more accurate way to determine the "volume" of a tumor to determine whether it is growing, shrinking or staying the same. But growth or reduction of a tumor doesn't necessarily change a person's pain level or ability to function.  Importantly, the Food and Drug Administration is pushing researchers to include PROs in their drug studies, and these tools may actually be helping to get drugs approved more quickly so they can help the people who need them.
The people affected by NF need to accurately report how they are doing in their everyday lives…with or without treatment. What is their pain level? How are they functioning? What is their quality of life? And how do these things change when they start taking a new experimental treatment?  But this needs to be measured as "scientifically" and accurately as possible. This may apply to plexiform tumors, optic gliomas, acoustic neuromas, pseudarthrosis, and a whole host of other complications of NF. NF community needs to understand this, begin to recognize how NF affects them and be prepared to participate. Drs. Martin and Tonsgard will help us to begin this process and to understand the importance of PROs in research.
Please, sign-up now for the 2014 NF Family Symposium.
Support NF education by making a donation towards defraying the symposium costs.
Please follow and like us: