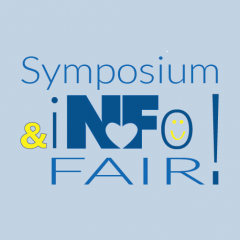 Oct. 25 Symposium Subject – Learning Disabilities in Adults with NF
Dr. Tonsgard and attendees at the 2013 Symposium.
Learning disabilities are a lifelong challenge. They don't just affect children who are in their academic years and the challenge isn't just in school. Learning disabilities are common in children with neurofibromatosis type 1 which means they are just as common in adults.
Because children with learning disabilities quickly become adults with learning disabilities, it is important for parents of children with LDs to be looking forward to how their child will be affected by learning disabilities as an adult. It is also equally important for adults with LD to understand how learning disabilities may affect them in their everyday lives.
Megan Scott, a neuropsychologist from the University of Chicago, will be presenting at our symposium on October 25th to help us understand learning disabilities in adults. The session will also include a panel of adults who have NF1 and learning disabilities who will share their insights on LD as children and as adults. Don't miss this great opportunity to learn from Dr. Scott, our expert, and share with our special panel.
REGISTER/FIND OUT MORE  SUPPORT NF EDUCATION
Please follow and like us: