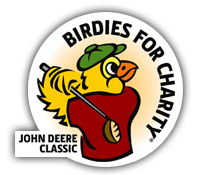 NF Midwest Receives $2,074 through Birdies For Charities in 2017!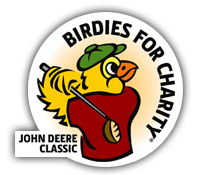 Since April 2012, NF Midwest has partnered with an amazing fundraiser called "Birdies for Charity" sponsored by the John Deere Classic PGA Pro Golf Tournament held each year around the middle of July in the Illinois Quad Cities, about a 3 hour drive west of Chicago.
In 2017 Birdies for Charity helped raise a record $12.27 million dollars for 521 local and regional charities, breaking the previous record in 2016 of $10 million dollars. Birdies for Charity continues to be the number one per capita fundraiser on the entire PGA tour and just keep growing every year!
Besides being a fun and profitable fundraiser, it is a total win/win for NF Midwest because John Deere underwrites all of the administrative costs for the Birdies program. 100 percent of each Birdies pledge goes to NF Midwest plus John Deere sweetens the pot by throwing in a guaranteed minimum 5% of pledges made in Bonus Dollars. Because the program has been so successful for the past 4 years, the bonus has actually been 10% so every $20 pledged became $22 to NFMidwest!
Here's the easy part. Simply make a one-time flat donation or pledge a penny or more for every birdie made during the tournament (1918 birdies were made in 2017). Here's the fun part. Make a guess at how many birdies will actually be made and if your guess is correct you will get a chance to win a two year lease on a brand new Lexus NX! How cool is that!
For more information please contact