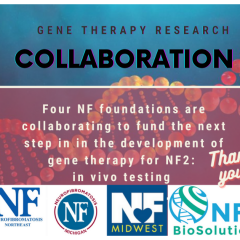 NF Midwest Co-Funds New NF2 Gene Therapy Project
Thanks to the support of our donors, NF Midwest is proud to be one of four NF organizations collaborating to fund a new NF2 Gene Therapy project.
NF Midwest, NF2 BioSolutions, NF Northeast, and NF Michigan have combined forces to fund a USD$100,000 Gene therapy project at Dr. Wade Clapp's Lab at the Indiana University.
This project will test several vectors on NF2 mice. (Vectors are sort of the vehicle that delivers the material to change a gene to the correct cells – Learn More About Vectors ). These vectors were designed by two separate labs at both University of Massachusetts and Nationwide Children's Hospital. The UMass project was funded last year by another collaborative USD$65,000 grant from NF Northeast, NF Midwest, and NF2 BioSolutions. The project at Nationwide Children's Hospital was funded by a three year USD$330,000 grant from NF2 BioSolutions.