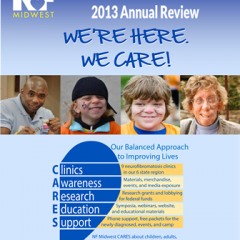 NF Midwest 2013 Annual Review
A small but mighty and well established organization – NF Midwest is here in the regional community for children and adults with NF and their extended families. And we've been here for over 30 years fighting a battle that personally affects us all.
Today we are proud to release our 2013 Annual Review. We hope that everyone who cares about NF and the NF community will take the time to see what we have done and we are dedicated to continuing. We are working to improve the lives of people with NF through a Clinics, Awareness, Research, Education and Support.
We also want to thank all of our supporters. We are so fortunate to have dedicated champions of the neurofibromatosis cause and of NF Midwest.
We are all in this together and together we can build better lives and better futures for ourselves and our loved ones with neurofibromatosis.
---
We welcome and appreciate any comments below.
If you support the work of NF Midwest please make a small donation to help.