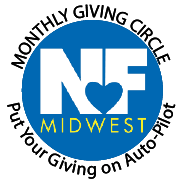 Join Our Monthly Giving Circle – Get a FREE T-Shirt
Join our Monthly Giving Circle  and for a limited time you may receive a FREE NF Midwest Neurofibromatosis Fighter T-Shirt!
A monthly donation is a painless, effortless way to support neurofibromatosis and NF Midwest. Your monthly generosity gives NF Midwest a reliable income stream so that we can focus more of our resources on the battle of neurofibromatosis. 
Also, you monthly donation may be designated to a fundraising team or family to help them get to their fundraising goal!
Sign-up for automatic monthly donations of $10 or more at www.nfmidwest.org/donate.