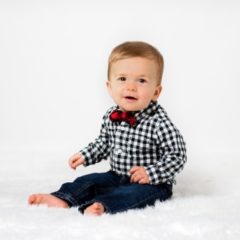 Jay – A Face of NF
Jay, 10 Mos.
Our sweet baby boy Jay was diagnosed with NF Type 1 in May of 2018 at six months old. We spotted his first café au lait spot when he was one day old in the hospital. The nurse said it was just a birthmark. By two months old he had more. After doing research we went to the University of Chicago. Things snowballed from there. The doctors and nurses were attentive, caring, and clearly experts. They were concerned with Jay's blood pressure and ordered the proper test to investigate. Thankfully his hypertension is not too high and just needs to be monitored. One of the doctors encouraged us to reach out to NF Midwest where we were immediately welcomed into a community of support and encouragement.
The community NF Midwest has created is something we will be forever grateful for. Jay is doing well, but he's very young and we know that NF is progressive and varies. He brings a smile and laughter to his many doctor appointments and wins people over wherever he goes.
"As parents, we were terrified for what was to come for our little baby. NF Midwest has helped us to put things into perspective.
They've also connected me with other parents who have helped. The people at NF Midwest are dedicated, compassionate, and determined that No one Fights alone."

Help Jay and others by supporting NF Clinical Trials by donating through Facebook at 7:01 am (CST) on Giving Tuesday, November 27th. Your donation may be doubled!
See More Faces of NF/Read Their Stories
Please follow and like us: