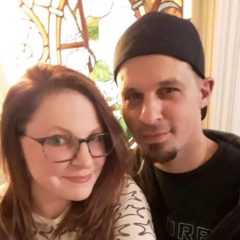 Chris Plus Morgan – A Face of NF
May is NF Awareness month. This year, to grow awareness, we are going to be sharing stories of how this disease impacts the lives it touches. Chris has his own story that is only his to tell, but being his wife we have a story of our own.
When we got engaged, Chris finally had a baseline exam consisting of 4 MRIs that would tell us where all the tumors currently in his body lie. When looking at others, Chris' case is relatively mild, but still, listening to the doctor explain all of this to me was scary. How will I know when an internal one is growing and if its changing into a malignant form?
On top of that, we also discovered if we wanted healthy children, we would need to take any route besides the one you grow up thinking you'll take. We learned that just because Chris' case was mild, that didn't mean our affected child's would be. Childhood cancer risks were high, blindness was possible, physical and learning disabilities are possible too, depending on where the tumors grow and when. Once we were married and after many months of doctor visits, phone calls and research (not to mention stress on our relationship) we finally understood that our path has never been the typical one, so why should this be any different. So now we are enjoying every day together, planning trips, working on our home and spoiling our pup.
Every story is different, so ask someone with NF to share theirs and be sure to listen. ❤
Learn more about Neurofibromatosis at www.nfmidwest.org
– Morgan (wife)
See More Faces of NF/Read Their Stories
Please follow and like us: