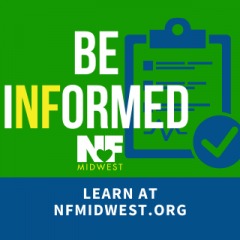 be iNFormed about Learning in NF1
James Tonsgard MD and Scott Hunter PhD (NF Midwest be iNFormed Series)
Neurofibromatosis Midwest is excited to start a new education initiative called be iNFormed. As part of this initiative we will be working with neurofibromatosis experts and our sister NF organizations throughout the world to create simple articles about specific complications or areas of interest with regards to neurofibromatosis.
The first article in our series is titled Learning Problems in Neurofibromatosis-1, written  by James Tonsgard MD, neurologist and Scott Hunter PhD, neuropsychologist, from the University of Chicago NF Clinic. This article covers the types of issues a person with neurofibromatosis type 1 might have with learning and also some of the evaluations and school interventions.
Check out the article here and be sure to check out other learning related resources for neurofibromatosis type 1.