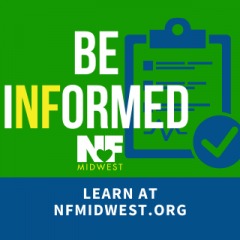 2012 NF Midwest Symposium
Want to learn more about neurofibromatosis? Looking to meet others with NF? Hoping for a cure? Join Neurofibromatosis Midwest; noted NF doctors and researchers; and families and individuals with an interest in neurofibromatosis at the Annual Neurofibromatosis Midwest Symposium on Saturday, October 13, 2012 in Hoffman Estates, IL (Chicago).
Neurofibromatosis Midwest has been holding this symposium to educate NF families and others for over 20 years. This year we have great line-up of speakers for Neurofibromatosis Type 1, Type 2 and Schwannomatosis, plus there will be opportunities to participate in research and mingle with others if you desire.th in Hoffman Estates, IL (Chicago).
The cost is only $25 per person and includes a continental breakfast, lunch and an afternoon snack. We have two kids groups 5 to 11 (FREE) and 12 to 17 ($10). Two local hotels have also blocked out rooms for the event at special rates.
Check it out here. Registration is at the bottom of the page.
Please follow and like us: