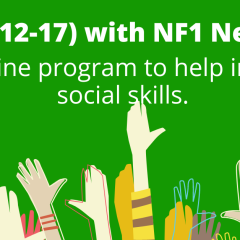 Teens with NF1 Needed for January Group
We have a research participation opportunity for families of children with NF1 ages 12 through 17.
Do you have a teen with NF1 who would like to improve their ability to make and keep friends?
Learn more about a research study being conducted by the University of Wisconsin-Milwaukee and the University of Minnesota. This Spring group is funded by NF Midwest, NF Northeast, NF Northcentral, and NF Upper Midwest and will meet virtually on Wednesday evenings beginning January. For questions about participation, please contact the researchers at or call 414-229-2586.