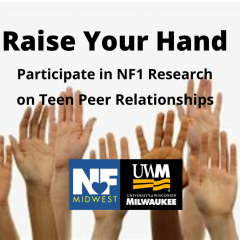 New Study – Improving Peer Relationships in Teens with NF1
Are you interested in participating in a new study to examine the effectiveness of a  telehealth group for improving peer relationships for teens with NF1? Our friends with the University of Wisconsin – Milwaukee Department of Psychology are beginning a new study and are seeking 12-17-year-olds with NF1 and a parent/caregiver.  Participation involves the teen and parent to complete a virtual intake session and then attend 16 weekly telehealth sessions over Zoom for 90 minutes each week. At the conclusion of participation, they will need to complete questionnaires.  Teens and parents will attend separate telehealth sessions simultaneously
PEERS for Adolescents is an evidence-based social skills intervention for motivated teens in middle and high school who are interested in making and keeping friends, handling conflict and rejection. This program has been shown to be helpful with children with other diagnoses and the study will examine the usefulness in NF1.
If you would like to participate, please open the link below for the study flyer and contact the Child Neurodevelopment Research Lab at UWM-their phone numbers and e-mail address can be found there.
This study is funded by a grant from NF Midwest.
READ ABOUT peer relationships study
Please follow and like us: